CONTENTS
TENNESSEE LIFE
DESTINATION REVIEW
CRAFTS
BOOK REVIEWS
~~~~~~~~~~~~~~~~~~~~~~
TENNESSEE LIFE:
My knitting friends are trying to teach me "southern talk". I've been informed the longest word in the southern vocabulary is...shiiiiiiiiiiiyat.
DESTINATION REVIEW:
The Dixie -
Huntingdon, TN
My rating 4 out of 5
, depends on performance, but organization does a great service for the community.
Depending on the activity, some tickets are as low as $15. up to over $50.
The Dixie Carter Performing Arts & Academic Enrichment Center
This is the town of Huntingdon's claim to fame I guess. Huntingdon is near where Dixie Carter grew up. Remember her from "Designing Women" in the 80's?
The Dixie, has many events, anywhere from concerts, to classes, to plays performed there. I've been asked a number of times if I'd like to volunteer to be an usher there. NO THANK YOU! With my great people skills (much sarcasm), they would not like this Yankee to represent them.
Mark Twain
My rating 5 out of 5
Performed by Hal Holbrook (Dixie's husband) was here last year, which I attended. An amazing performance! And made even more amazing since Mr. Holbrook was 89 at the time I saw his wonderful performance.
Big, the musical
My rating 2 out of 5
This was local theater performing the play, "Big, the Musical" at the Dixie. For the most part it was VERY amateur. Definitely "local yokels" performing. I wish I could give credit to the two very good and outstanding performers, but I saw this in February, and can't find the cast listing.
The performer who played the main character, Josh (Tom Hanks in the movie version) had an excellent voice. He didn't fit the physical image in my head of Josh. This young man was thin with long blond hair, quite different from Tom Hanks looks. But his voice was strong, clear and in key.
But the show stopper, what the performer who played, Billy. He was Josh's best friend. This actor stole the show. Seemed very comfortable on stage. Comedic timing was excellent. Very endearing. Great singing voice as well as projected "his" acting voice clearly. Loved, LOVED this performance of Billy. Billy wore a baseball cap throughout the whole play. In the end, we found out why! Bill was performed by a girl! She was amazing and pulled off a male part flawlessly. When they ended with their final bows, she took off her hat and her long pony tail fell forward. BRAVO!
~~~~~~~~~~~~~~~~~~~~
CRAFTS:
Finished another Mystery Knit-a-long. I really enjoy the mystery and the process but what do I do with all these damned shawls???
I hope to begin making more practical pieces. I have started a summer tee shirt made from cotton yarn. I hope to make a summer lace cardigan as well as a fall poncho. Hopefully, I will not be purchasing yarn for these. I must use from my stash, I must use from my stash. I must use from my stash!
~~~~~~~~~~~~~~~~~~~~
BOOK REVIEW:
I should rate this 1 star since I couldn't finish it, but since I didn't give it much of a chance, I'll just rate it in the middle. I only got to 6%.
I was intrigued by what was going on, although quite depressing, it did make you wonder what is this woman's history. The author slowly gets to her history.
The author goes from 1900 to 1950 to 1915. Unless your are reading this book in a long sitting at a time, it is difficult to keep track of. Which characters were in what year and what were their ages, and then "present" day relating to 50 years ago. Because I was reading this in just short 15-30 minute sessions, I had a difficult time re-orientating as to who was who and when. Just too much jumping back and forth in time for me.
Murder Deja Vu
by
Polly Iyer
My rating:
5 of 5 stars
Loved this book. Murder mystery with 4 or 5 possible suspects, or...will the author throw in an oddball? Or could there be two murderers? I had my suspicions, but still had my doubts. Throw in a nice romance, although their emotions moved too quickly ahead. I will read this author again.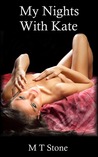 My Nights With Kate
by
M.T. Stone
My rating:
3 of 5 stars
Rating a 3 out of respect for author. My personal rating is 1 star, but I feel it is because of my age. Being a 58 yr old woman, I cannot fathom why a 49 yr old man would want a 22 yr old girl for anything other than arm candy and sex. The author has made Jack (the 49 yr old widower) sound like the perfect man. He's got money, maturity without being old, keeps in shape, kind, generous, wise, giving in bed. Yet, he goes for a 22 yr old. It just doesn't seem to fit Jack's personality. He knows better than that. Jack is looking for a relationship, not just sex and a 22 yr old from an on line "sugar daddy" site is not where to find a relationship.
I couldn't finish.
Kate and Jack are on their 1st "date" and end up in bed. Jack waited for HER to make the 1st move. Yea, right. He's just too nice.
In bed Kate asks "What do you like?" Jack's answer..."Honestly, what I like most is giving a woman multiple orgasms".
OH COME ON! Really? Stick a finger in my mouth and make me gag!
~~~~~~~~~~~~~~~~~~~~
AUDIOBOOK REVIEW:
Fractured
by
Karin Slaughter
My rating:
3 of 5 stars
Narration was good. I was disappointed in this book. I can't pinpoint why. My husband loved it and encouraged me to listen to it. I loved the 1st Will Trent book.
I wasn't able to really enjoy the characters. It was just a murder/kidnapping mystery and unremarkable.
How To Run With A Naked Werewolf
by
Molly Harper
My rating:
5 of 5 stars
Molly Harper is always good for a fun read. If you're looking for a serious vampire/werewolf adventure, this is not the book. Her books are light hearted & sarcastic. Always a romance. Always vampires or werewolves living, interacting and falling in love with a "normal" human.