Santa Fe, NM 87508
~~~~~~~~~~~~~~~~~~~~~~~~~~~~~~~~~~~~~~~~~~~
RV LIFE:
I'm so excited! I met fellow bloggers Brad and Suzanne from
RV'ING AND TRAVELS
. Also a blog for their dog,
ZOEY
.
I've been following so many RV, dog, craft blogs, that I now have to make a spreadsheet to keep track of who is who and things about the people. Thank goodness I did. Because I immediately was able to recognize that our neighbors were bloggers I follow.
I mentioned to Scott the other day, that a blog I follow repairs RV blinds. Scott has repaired one before and is not looking forward to repairing another. I said they are in NM, but 4 hrs. away. Scott said wouldn't it be odd if they ended up here?
This is our view from Scott's computer desk.
We first saw the magnetic sign on the side of the truck advertising
BRAD'S BLIND REPAIR

.
THAT'S THEM!! I screamed to Scott. He just looks at me like I'm nuts.
So I've been peeking out the window off & on for about an hour. THERE THEY ARE!! What am I?..a blog celebrity stalker? Oh and now a blog paparazzi too (photo above). I run outside to their site and say, "I'm so excited! Your the
RVING AND TRAVELS BLOGGERS
!" After I settle down, I see the "famous"
ZOEY, THE FULLTIMING DOG
too! Isn't the internet wonderful! Of course, it's usually anti-climatic when you meet folks you've only "talked" with or known about on the internet. Ok, now what? Very nice couple and hopefully they'll take on the job of fixing our blinds.
**Update: Brad indeed restrung/fixed our large "dining room" day/night shade for $25. Thank you
BRAD'S RESTRINGING BY MAIL

.
~~~~~~~~~~~~~~~~~~~~~~~~~~~~~~~
SIGHTS:
Yesterday we were supposed to go to a distillery in Santa Fe, but SCOTT put in the address for the distillery in Los Alamos! No worries, so we have to drive 40 miles instead of 10 miles at $4.19 per gallon of diesel! No worries! We don't have a house in NJ and NJ taxes and utilities to maintain anymore. I'll take the $4.19 per gallon as to paying $550.00 per month (almost $7000.00 per year) for property taxes in NJ. Some views along the way...
Can you see the ski slope trails?
Skin hides being dried.
So off we headed to
DON QUIXOTE DISTILLERY
. The building is definitely a work in progress. It is on Route 4, and we almost didn't go in, because the shrubbery & weeds are all overgrown, making it look like it is closed, in spite of the "open" sign displayed. It will be a really nice place once it is refurbished. They are working on a stone patio, with fountain. Inside they have tables for seating at events they hold. Nice stone bar where we had our wine tasting for $5.00 for 5 tastes.
This is what $183.83 looks like!
We bought port, sweet red, sangria, and merlot. I'll do a rating & write up at a later time. I did try their
GIN
, but I thought it was disgusting. But, I've never sipped Gin straight. I always have it as Gin & Tonic with lime. Alright, I just took a sip of the Gin I have here. I think it is Beefeater Gin. (My favorite is Tangueray Gin). Anyway, just tasted like Vodka to me. But the Don Quixote Gin, had a strong odd taste, that I just couldn't handle.
~~~~~~~~~~~~~~~~~~~~~~~~~~~~~~~~~~~~
We started off this morning by returning to the
SANTA FE FARMER'S MARKET
. This is why we extended our stay from 7 to 11 days. We wanted to return to the market for more items.
Back row, left to right:
STAR G HONEY
, Blue Ribbon Sweet Clover Honey
Janet's Clay Workshop,
Functional Polymer Clay Artwork, Celtic handle paring knife
Close up of clay celtic knot handle
Trujillo Family Farms
, Spicy Vegetable Garden Mix, red mild chili powder & pinon fudge.
Pinon fudge
is just a fudge with pinon nuts (from the pinon pine cone).
PINON NUTS
are basically a specific pine nut. Reading up on it, I didn't realize that pine nuts come from pine cones. They are hidden under the "scales" of the pine cone.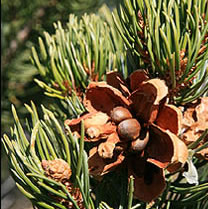 Also, the oatmeal raspberry square. We had to buy from this merchant. Duke is a black lab. We're always softies for dog lovers.
Mario Reynolds CD, Andean music. He was playing in the Old Santa Fe Plaza. His instrumental music was very soothing. If I can figure out how to add music to the blog, I'll add a sample.
OLD PECOS FOODS
, Hickory Almond Mustard. A quote from their website "
A wonderfully smoky mustard with the suprizing crunch of Almonds excellent to use on barbeques for exceptional flavor for meals. A must for picnics."
LAVENDER LADY

,
sold sachets of lavender She definitely draws attention at her booth in her lavender outfit.
After the farmer's market we walked a few blocks to "old" Santa Fe Plaza. That is a hopping place! Lots of vendors selling anywhere from home made beautiful crafted by local Indians, jewelry to high end stores. This was our first really hot day in Santa Fe. I've been told I should be drinking more water, to off set the symptoms of altitude sickness I've had. Oooh, look! Watermelon juice! For $2.00 I got a 16 ounce (with very little ice) cup of real, pure watermelon juice. Delicious!
The streets/house architecture are as interesting as New Orleans. We didn't bring our camera, or our cell phone (camera). I was too hot to be carrying anything bulky.
Because we didn't know if we would be heading back this way in the coming years of our travels, we opted to go home, get our camera, and free our dogs from the RV. Santa Fe Plaza was very dog friendly. It was nice to be able to bring them along. I always feel somewhat rushed, when I know they are "stuck" in the RV.
Ahhhh, now with camera in hand (Scott's hand, I was still too hot), here are some photos of Santa Fe Plaza, etc.
NY/NJ/PA have hot dog & hot soft pretzel vendors, Santa Fe has fajita vendors!
We missed taking photos of antique
CORD AUTOMOBILES
. Very cool. I don't think I've ever seen this type before.
Here's a video link (taken by someone else) of the
OLDEST HOUSE IN THE USA
. They left part of the outside wall in it's original state and you can see the straw mixed in with the mud to form the wall.
So much turquoise, silver and copper jewelry. Live music, food vendors, restaurants, etc. Definitely another must see excursion.
Old Vaudeville Theatre