TURKEY SWAMP COUNTY PARK
Freehold, NJ 07728
~~~~~~~~~~~~~~~~~~~~~~
Correction:
For those following the blog regularly, Dave from
FLIP FLOP VECTOR BLOG
, commented that the park fee of $37./day and ending at $44./day after the taxes, and other extras, was a 20% hike. That did seem excessive. So upon rechecking, the fee is truly $37./day. No extras.
There error was caused by our booking originally for 18 days ($666.), but we changed it to 15 days ($555.). I divided 15 days into the 18 day cost, so there was the error.
See, NJ is not that expensive.
~~~~~~~~~~~~~~~~~~~~~~~~~~~~~~~
RV LIFE:
Busy, busy busy. Another Dr. appt. today and lunch with a friend. I would like to refer you back to the
Flip Flop Vector Blog.
They are still under 1 yr. full timing, but their blog is already a wealth of information. I'm impressed with
HIS BLOG POST, A four month learning curve.
He really took the time to post about the pros and cons, and hints for full timing. I, on the other hand, just type whatever comes out of this little mind. If it's RV related and it helps, great. But for the most part, my blog is just for those "nosey" or "nibby" people that like to read about other people's lives.
While hanging out with my bro, Rob and his family, he took us the the Archery Range that is part of this park. I wanted to see him in action with the
COMPOUND BOW
I gave him when we were
purging
items from our house to get ready for F/T RV'ing.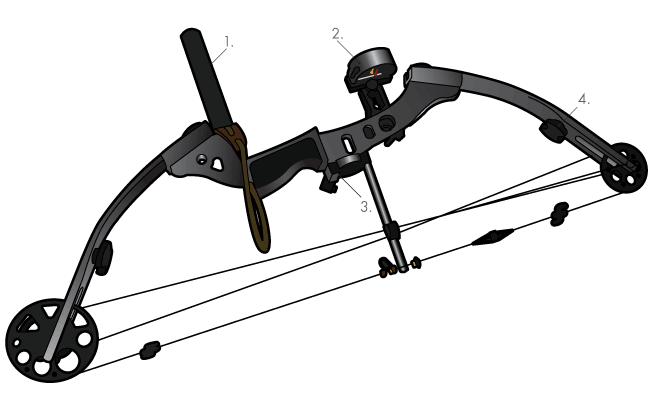 Notice the woods surrounding the area? That is what the campsites look like, so can be difficult for big rigs.
My brother's step-daughter (Chrissy) and her boyfriend (Chris/Christopher) also joined in for the weekend. Christopher works at
ALLAIRE STATE PARK
as a Blacksmith! They are both into Renaissance Fairs, so his bow of choice to keep in the correct time period is more like a simple
LONGBOW
.
~~~~~~~~~~~~~~~~~~~~~~~~~~~~~~~~~~~
ELECTRONICS:
My brother, Rob and his wife, Carol, camped at this same park for the weekend. Nice to spend a little time with them and get to know Carol a little bit better.
Carol invited us over for lunch last week at their home. But I think my brother had an ulterior motive! His computer hasn't worked for 1 month, and gee, while Scott is at the house having lunch, maybe he could check out the computer!
Since full timing, Scott doesn't have a stash of old computer parts anymore, so he wasn't sure what he could do. So after filling up on a delicious cheeseburger, great home made potato salad, tomato salad and birthday cake for desert, Scott took a look at the computer. Not fixable in an hour. So we lug the computer to our RV. This really makes our RV feel like home. You know the hard core motorcycle guys that bring their cycle into the living room to take apart and clean and put together again, well that's Scott with his computers...computer cases open and parts spread all over our living room.
Every time Scott turned on my Bro's computer, the 30amp circuit blew at the site post. After 3x's he decided to not do again. Long story short, Scott was able to take parts from my old computer (soon to be thrown out) and was able to fix my Bro's computer. I'm so proud!
And what's Scott's payment for this (besides the lunch)? Scott's power supply isn't working, so off to Best Buy for a new one. All is in working order again.
Carol did offer to make another batch of her great potato salad as a thank you, but we won't be seeing each other again before we leave. Thank you anyway, Carol!


AUDIO BOOK REVIEW:
Battle Hymn of the Tiger Mother
by
Amy Chua
My rating:
3 of 5 stars
Interesting read. I have wondered at how the Eastern Culture raises their children. The Chinese have such a strong work ethic (as I did).
This book describes 2 generations of child rearing in a Chinese and then a Chinese-Jewish/American household.
It's the total opposite of what US rearing has become. Chinese seem to be too strict and the US is way too lax. There has to be a happy medium, which at the end of this book it seems is finally learned.
View all my reviews