RAINBOW'S END RV PARK
, Livingston, TX 77351
Feb. 11-17, 2012
~~~~~~~~~~~~~~~~~~~~~~~~~
RV LIFE:
So, I'm out of my "funk" for a while at least. I'm embracing my free time and as you can see from reviews below, I'm enjoying reading books, and listening to audio books while taking the dogs on long walks. I've also been knitting more. Hopefully, I'll break out the embroidery machine and try my hand at that again. One of these days, I'll attempt the knitting machine maybe when we are staying in one place for at least 2 weeks.
Since we are back "home" or more accurately, in our domicile town, we've been mail ordering again. Rainbow's End RV Park is the headquarters for
Escapees RV Club.
This is where our mail is delivered to and then forwarded where ever we happen to be.
We've renewed our registrations. $190. total for truck & 5th wheel. We got our truck inspected $15. We will probably by pass getting our RV inspected. It's just a PIA to unhitch and take it someplace to inspect. As long as we're out of TX by March 1st, we're good until we come back to TX, which will be quite a while.
~~~~~~~~~~~~~~~~~~~
GADGETS:
Scott ordered another
Satellite Meter
from our favorite on line store, Amazon.
A satellite meter is a great aid in positioning your satellite dish to find the satellites needed for reception. Our previous meter was dropped and the screen broke. It still worked via tones, but it's much easier to position the satellite with the screen view also. Since we are constantly moving, the $180. price tag was worth it. Here is a
link to the video
showing how to use the meter.
~~~~~~~~~~~~~~~~~~~~
CRAFTS:
I joined the "Stitch n' Chat" group this morning here at Rainbow's end. If I was staying here, I think I would really enjoy this group of ladies. There were knitters, crocheters, cross stitchers and plastic canvasers. I was able to give away the remainder of my craft magazines and leaflets that I have scanned into my computer. Ahhh, I feel the weight lifted.
I ordered my first "good" pair of sewing scissors. I've bought decent scissors from craft stores in the past, and they were only used for fabric, but they have dulled. I've tried sharpening, but could never could get the joint/pivot area sharp, so only the tips were useful. So after reading reviews I decided on
Gingher Dressmaker Shears.
While researching, I was hoping for a longer pair, but the reviews stated that the longer the scissors, the wider you have to open the scissors for full use. Since I have small hands, I opted for 8" instead of 10-12" scissors.
PRODUCT REVIEW:
I also ordered
Knitter's Pride Dreamz interchangeable circular needle set
from
Eat.Knit.Sleep.
It took quite a bit of willpower not to order some of their beautiful handpainted yarns. I have enough stash...more than enough stash.
Dreamz Wooden
These are smooth sharp wooden needles that are interchangeable with the cables. I NEVER use straight needles anymore. Straight needles just get in the way. I also have a pair of Knit Picks Harmony Wooden & Zephyr Acrylic interchangeable needles.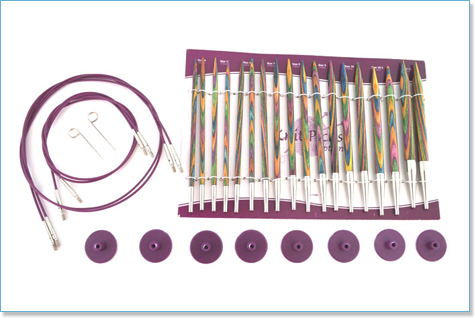 Harmony wood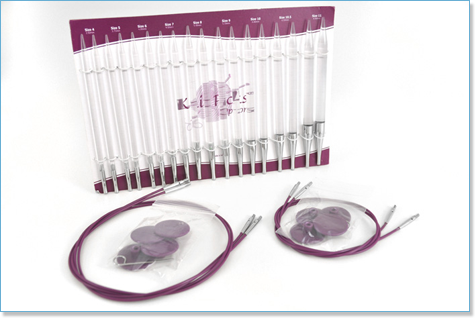 Zephyr Acrylic
Trendz Acrylic
If you are an avid knitter, treat yourself to a set of interchangeable wooden needles. I first purchased the Knit Picks Harmony because the wood grain was soooooooo beautiful!
But, what I did not like was that all sizes were the same design/color. So I have to constantly check the size with the needle sizer. At the time of purchase, this was the only pretty, good quality wooden interchangeable available. I also purchased the clear Zephyr acrylic, just for the uniqueness. I don't particularly like the acrylic.
With much use and abuse, some needles have broken. Why would a wooden needle break when they are "safe" in my soft bed. Oh, if a dog happens to use my knitting tote as a pillow, I guess that could break them. Duh! Knit Picks replace needs free of charge, but I've opted to purchase the now available different color/different size needle set from Knitter's Pride.
Knitter's Pride Dreamz has a disclaimer stating no guarantee that their interchangeables will fit Knit Picks Harmony...but they do!
I love both Harmony and Dreamz. Dreamz has the advantage because of the different colors for different needle sizes.
My rating 5 out ot 5
~~~~~~~~~~~~~~~~~~~~~~~
AUDIO BOOK REVIEW:
Dreams of Joy
by
Lisa See
My rating:
4 of 5 stars
This is a sequel to Shanghai Girls. It is almost an essential read because Shanghai Girls leaves the story open.
Overall, this is very depressing. Communism taking over China and the abuse of the original idea.
But it is also heartwarming the depth of love, dedication and determination to strive for happiness.
The Adventure of the Blue Carbuncle
by
Arthur Conan Doyle
My rating:
3 of 5 stars
Typical Sherlock Holmes story. This was just a short story, only 45 minutes long.
~~~~~~~~~~~~~~~~~~~~~~~~~
BOOK REVIEW:
Denial
by
Keith Ablow
My rating:
2 of 5 stars
So many dysfunctional characters, short bursts of raw sex (no romance). About 50 pages into the book I was ready to quit because I couldn't deal with the characters that lacked my respect and had no self control. But I plodded on and the story did suck me in.
With things coming to a conclusion, I was ready to give this 4 stars. But the end was just ridiculous. Characters that are narcissistic, emotionally immature, have no self control, and no social skills.
I wish I hadn't wasted my time.
Key Weird
by
Robert Tacoma
My rating:
1 of 5 stars
Horrible, horrible book. Definitely TRYING to write like Carl Hiaasen, but failing miserably. No point to the story. Different characters from different areas and walks of life end up in Key West. I thought the story would somehow bring them all together in one story, but no. Stick with Carl Hiaasen if you looking for a decent story with some memorable odd characters.
View all my reviews
~~~~~~~~~~~~~~~~~~~~~~~~~~~~~~~~
WHERE WE'RE GOING