~~~~~~~~~~~~~~~~~~~~~~~
PLEASURE: A feeling of happy satisfaction and enjoyment.
~~~~~~~~~~~~~~~~~~~~
RV LIFE:
Pleasure #1: The weather in the Southwest has been so consistently the same...dry, 70-80° for the past 2 months, I miss having a stay in jammies, stay in bed, watch movies or read and drink tea kind of day.Today is that day.
Today is very high winds. We woke up at 5:15am to the sounds of flapping. Better roll up that awning! It can be quite disturbing in a RV with such high winds. Our slide covers flap, items around our site need securing, the RV shakes, but it's worse for the guys across the way in tents. If they weren't inside those tents, they'd probably blow away! So even though it's a nice 68°, the wind is really preventing any enjoyment outside. That's ok. I've been wanting a "snow day", meaning a lousy weather day so I can just stay inside and laze around. Yes, it is a totally different feeling than lazing around outside.
I finished a book and I actually watched a movie! Reviews further below.
~~~~~~~~~~~~~~~~~~~~
SIGHTS:
Tuzigoot Nat'l Monument
, Clarkdale, AZ $5.00/per person
Our rating 3.5 out of 5
I think $5. is a little steep for what little we see, but on the other hand,this is a real (no reproduction) Pueblo ruins. I'm sure the upkeep and security costs a pretty penny.
There is a paved walk uphill to the ruins. The museum in the visitor center is quite interesting. Great pieces of pottery, tools, garments, etc found while digging up the ruins.
This is before excavation. Just looks like any other mountain. Makes me wonder what could be found under all the others mountains we see.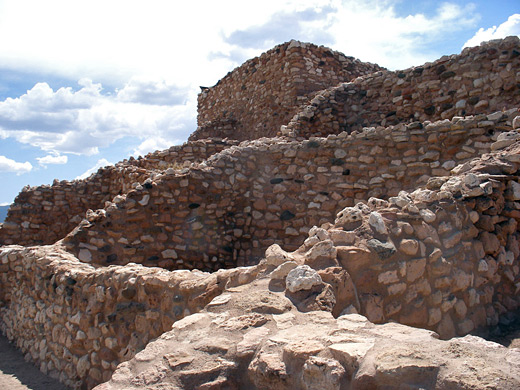 Only one of these multitude of rooms has a doorway. It is thought that you entered via the roof.
Our rating 5 out of 5
What a cute little town. Very close to Dead Horse Ranch State Park. There is on street parallel parking, but also a dirt lot for public parking at the beginning of town.
There are fancy restaurants, to cafes, to deli's. There are winery tasting rooms, a tea house, upscale consignment & a craft consignment shop, as well as a very nicely laid out thrift store with the proceeds going to a local Animal Shelter.
Take an afternoon stroll and enjoy some wine tastings, some olive oil and balsamic vinegar tastings. Then stop in for a sandwich or dinner at one of the many restaurants.
We only went to one wine tasting room,
Pillsbury
. We stopped in because we had an Irish Setter named Pillsbury. Be forewarned, it costs $10.00 for a tasting of 5 or 6 wines. $12.00 if you want the glass. It's a beautiful large, long stemmed wine glass, but we don't need more glass in our RV. Pillsbury wines were actually quite good. This is the first wine tasting that I've been to that doesn't really have sweet wines (for Scott). The dry reds I tried were really nice, but at $29.-$38.00 per bottle, was just too steep for me.
~~~~~~~~~~~~~~~~
BUSINESS/PRODUCT/FOOD REVIEW:
Verde Valley Olive Oil Traders
, Old Town Cottonwood, AZ
Our rating 5 out of 5
Pleasure #2: What a great experience! After our Pillsbury wine tasting and being disappointed at the high price of the wine, we venture into this olive oil and balsamic vinegar shop, with prices just as high, but well worth it.
$16.00/ per 325ml bottle or $12.00/per 200ml bottle or $30./for 3, 200ml bottles
I have never been one to "pair" wine with food. I drink wine
before
dinner to get a slight buzzzzzz. I do not enjoy wine with dinner, so no "pairing" needed. But, I never thought of pairing certain oil & vinegar flavors. What a joy to my tastebuds!
We walk into VVOO Traders and are met with approximately 50 silver vats with little spigots at the bottom. The sign says free tastings, but I am at a total loss. Is there really that much difference in oils and vinegars? Oh yes, YES,
YES!
Sorry, got carried away
After a time, we were approached by an employee asking if we know what we'd like to taste. I admitted, I've never experienced this before and am totally lost as to what to try. I did start her off by saying I'm looking for an Oriental, ginger type mixture for salad dressing. That's all she needed and we're off!
Whole fruit Persian Lime Olive Oil, paired with Honey Ginger White Balsamic Vinegar
First we taste separately, very nice, then mixed together. Pow! Pop! OH MY GOSH! It is wonderful! I'm in heaven or the Land of Oz! I'll take a bottle of each, no matter the cost!
After this first pairing, it was difficult to compete. We
did not
find the same wow factor pairing after that, although we did get the wow factor for some stand alone tastings.
The only oil I really disliked was the
Blood Orange
. It tasted like an orange peel. Scott liked it, but he also likes orange marmelade and I don't.
We also tried
Cinnamon Pear Balsamic
, which I liked and Scott did not.
Grapefruit White Balsamic
, light, nothing special. Did not taste grapefruit at all.
Vermont Maple Dark Balsamic
, this was very good and a contender for purchase. Definitely taste the maple. Would probably make a nice topping for pancakes.
Cilantro & Roasted Garlic Olive oil
, another contender. Strong roasted garlic flavor without being bitter.
Fresh Basil Olive Oil
, very good, we just wanted a more complex flavor.
Tucson Herb Blend Olive Oil,
very good. We had to decide between Tucson & Herbs de Provence.
Our "hostess" was more than willing to let us taste more, but by this time, we couldn't remember which we liked best. The shelf life is only about 9 months, so even if we wanted to spend more money, it may have been wasted by not using the product within that time.
Besides the Lime & Honey Ginger, we also bought.
Tuscan Herb Olive Oil paired with 18 year old tradition Balsamic Vinegar
Herbs de Provence Olive Oil
Blackberry Ginger Balsamic Vinegar
We ended up with 6, 200ml bottles and thankful they will ship.
This would be a great "date night" activity or ladies afternoon out. And after the great service and the wonderful tastings, the bottles were wrapped like a present to us.
This is all a part of the wonderful
Old Town Cottonwood.
~~~~~~~~~~~~~~~~~
RESTAURANT REVIEW:
The Orion Bread Co.
, Old Town Cottonwood, AZ
Our rating 4.5 out of 5
Make sure you read this right this is the oRion bread co., like the star, not oNion bread co. as I kept referring it as.
A couple of the local restaurants use their bread in the establishments.
Pleasure #3: We stopped in at first to just buy a loaf of bread, but ended up ordering sandwiches for lunch. We were greeted with a familiar accent behind the counter. Very loud, very fast talking. Of course! He's from the NY/NJ area. Who could mistake that accent! We ordered our sandwiches and Joe, yes Joe who is Italian (how stereotypical), proceeded to talk a mile a minute. He's from Lodi, NJ which is just outside NYC, he was rich, now he's broke, he has alopecia, and on and on. To a local yokel, or a midwestern, he may be off putting, but to me he was "home". What a character.
The Mediterranean
Sandwich: Consisted choice of bread, which I chose Honey Multi-Grain, peppered turkey, provolone cheese, spring mix, tomato, cucumber, olives, avocado, red onion, & mayo. Delicious! Fresh sweet bread, the sandwich had no ingredient overpowering the other. The mayo was enough to moisten the sandwich but not globby.
Old Town Classic
Sandwich: Another great sandwich with roast beef, havarti cheese, spring mix, tomato, red onion, roasted red pepper, horseradish mayo.
They would have gotten a perfect score of 5 if they had the "today's special", Cinnamon Raisin bread ready.
~~~~~~~~~~~~~~~~~~~
GEOCACHING:
Scott has been taking hikes to find geocaches. He is having a blast! The caches are so much easier to find in the desert. You basically see a bunch of rocks piled up un-naturally and there's the cache. Back East, caches are hidden in logs, under leaves, in the brush. They are very difficult to find.
Dead Horse Ranch State Park is a geocacher's heaven. He's found probably a dozen all within walking distance of our RV site.
~~~~~~~~~~~~~~~~~~
BOOK REVIEW:
Pleasure #4:
The Island
by
Elin Hilderbrand
My rating:
5 of 5 stars
Chick lit and I like it.
2 sisters in their 50's and the 2 daughters of 1 sister escape to a remote island off Massachusetts for a one month vacation that is more for rest, relaxation, figuring out where they are in life and hoping to bring their relationships close again.
Each woman is at a stage in life asking, What is next? Which road should I take? We all can probably relate to those questions, but it is somewhat difficult to really relate with these women since they are all successful as far as wealth.
Overall it is thought provoking, a romance, and a vacation get away book.
~~~~~~~~~~~~~~~~~~~~~~
MOVIE REVIEW:
Pleasure #5:
Hysteria
, Historical, Romantic Comedy, 2011 (Available on Netflix)
My rating 4.5 out of 5
Scott recorded this for me. Our DVR has been filling up, so I thought I should start watching some movies to clear space. I did not know what this was about. I clicked play and saw that is was set in the late 1800's. That's usually a good sign for me that I'll enjoy it.
My, my, my! Do you know where the term "hysteria" developed from? During ancient Greek times, it was thought that a woman's uterus was a living being. This being inside the woman may sometimes cause trouble by blocking her breathing, or blogging passages in her body. Also it was thought that this was the storage area for women's semen. If a woman's semen wasn't mixed with a man's semen, or released through climax, the woman's semen would grow angry and take out it's revenge on the woman's body. The cure? A Hysterectomy.
This is a cute movie about a young doctor trying to find his niche in medicine. He ends up working with a doctor who deals with women's problems of hysteria and has found an alternative solution to hysteria other than a hysterectomy.
This "remedy" is still used today!
~~~~~~~~~~~~~~~~~~~~
COMPUTER:
I use Excel spreadsheets everyday. I use them for the data keeping I do for
A&B English Setter Rescue
, I use spreadsheets to keep track of what books I've read, what movies I've seen, campgrounds, restaurants, where things are stored in the rv. After years of using these spreadsheets and having multiple "sheets" in each spread sheet, I just figured out how to change the name from "Sheet 1", "Sheet 2", etc. How stupid I can be sometimes. You should always try to
right click
on things. That opens up a whole new menu of possibilites. I KNOW that. Why I never tried this on the Sheet name, I do not know except I had a stupid mind block? So now instead of trying to remember what sheet # is what, I actually have names! What a concept! Duh!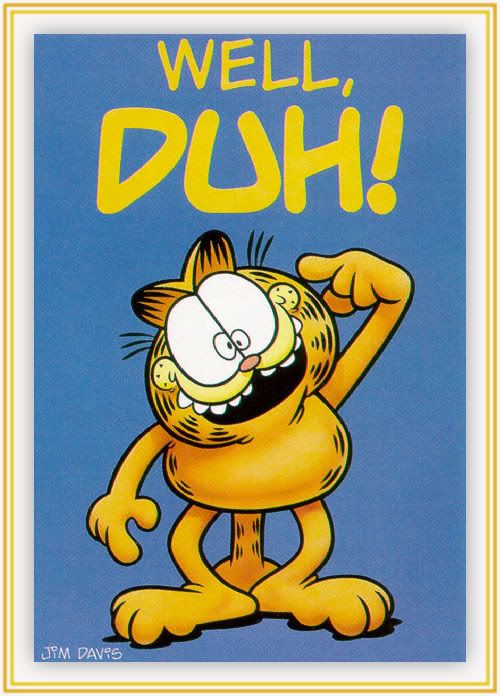 ~~~~~~~~~~~~~~~~~~~
CRAFTS:
Pleasure #6: I finished my
Alexa
short sleeved cardigan. It turned out pretty good, but I'll probably never wear it unless I accept my plus size figure.

~~~~~~~~~~~~~~~~~~~~~~~~
Pleasure # 7 - ?: WHERE WE'RE GOING
NV, CA, OR, ID, WA, MT, ND, SD, WY, then south for the Winter of 2013/2014